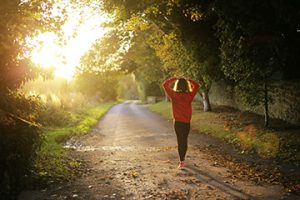 If you've never heard about visualization coaching for sports, and in this case, I mean running, its building a mental image of the race for practice. It's not a magical cure all, but good healthy practice to face some of the pitfalls of the race. Your body works with your mind when you're moving it by running or exercising. However, you mind can be a powerful tool to help you maximize your winning potential. Visualizing a race for a few minutes a day can help you get through the pitfalls and make it to the finish line faster than other competitors.
Visualization won't make you a great athlete, but it can bring out your greatness.
If you don't train at all, but simply visualize racing, you may make some stride, but nothing that's race worthy. However, if you train physically with dedication and persistence, visualizing the course and the win can help you get the edge. You don't have to be a world class athlete to use it to your advantage, either. It can help you run further and faster no matter what your level of expertise.
Great champions have often talked about the mysterious mental factor that helped them reach their goal.
Muhammad Ali said, ""Champions aren't made in the gyms. Champions are made from something they have deep inside them – a desire, a dream, a vision." Mark Plaatjes, gold medal winning runner practiced visualization until he knew every inch of the course and mental overcame every possible pitfall and scenario. During the actual race, he raced with confidence because of his mental preparation, taking the gold medal. Bruce Lee, world famous Martial Arts expert, provided this thought provoking quote, "As you think, so shall you become." It's true of any sport. Visualizing everything from possible problems to winning the race can help you prepare.
It's just as important to be mentally prepared as it is to be physically prepared.
The mental side of any athletic competition plays an important role. If you're not mentally tough, you won't have the extra push to get through the pain and exhaustion of the final leg of the race. Learning how to extend your limits and run through exhaustion can come with practicing mentally. Visualizing yourself running the distance and making it past the finish line can help you mentally prepare.
You need to visualize both the good and the bad in order to get your best results. Visualizing the potential pitfalls and ways to overcome them will help you just as much as seeing yourself victorious.
Visualization can help you boost your confidence to provide a edge for winning.
Be specific in your visualizations. Experience the wind or sun, see what you're wearing, even notice how many people are in the race. The more specific you can be, the better the experience.
Visualization can help you stay focused during the race. You'll already have experienced many of the pitfalls by visualizing, so you'll know exactly what to do.
For more information, contact us today at The Running Warrior