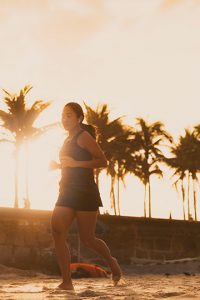 When the summer sun is blazing down on the earth, many people think they have to give up running until it cools down, but that could be weeks. These summer running tips will keep you safely training and enjoying your run. You still have to take precautions and insure you follow extra steps to keep you safe and healthy, but the sun doesn't have to be your enemy and running in the summer can become one of your favorite types of exercise.
The time of day you run is important.
Only mad dogs and Englishmen go out in the noon day sun. That saying actually came from the time when England was colonizing India. The local people knew enough to go inside after ten in the morning until early afternoon, but the English, used to their cloudier and cooler climate, remained in full dress uniform outside in the sun. If you're running in the summer, make it when the sun ISN'T at its highest. Run in the morning before ten or in the late afternoon after four when it's cooler if morning isn't possible.
Hydrate….hydrate….hydrate!
Water is your best friend in the summer, whether you're a runner or not. The more you sweat, the more chance you have of dehydrating. If it's windy, you may not even notice the perspiration, but feel cool and comfortable. Eight ounces of water every 15 to 20 minutes is one estimate of the amount of water you need. Some estimates go as low as eight ounces every hour. Drink frequently, even if you don't feel thirsty.
Dress appropriately.
You may want to wear a hat in the summer to shade your eyes or protect your skin from UV rays, but you're better off wearing sunblock and sunglasses. Heat is lost through the top of the head. That's why hats are so important in the winter. The reverse is true in the summer. You want to release as much heat as possible. When choosing running wear, choose loose, light-colored clothing that's preferably made from newer sports synthetics.
Start slowly and pick up the pace the more your body becomes acclimated to the hot weather. Going at top speed on the first super hot day will only get you in trouble.
Know when your body is signaling you to quit. Sometimes, you have to work through the misery, but not if it's super hot and you're risking your health. Know when to call it a day or train less vigorously.
Don't coffee up before you run. Caffeinated drinks act like diuretics and increase your urine output. That can lead to dehydration quickly.
Know the signs of heat illness. If you're cramping, have a headache, feel dizzy or disoriented you need to get out of the heat immediately. Know all the signs of heat exhaustion and heat stroke.
For more information, contact us today at The Running Warrior