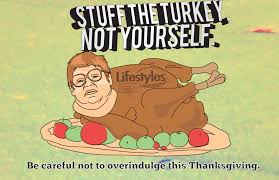 When holidays come, you're often not yourself. You either hate the holidays because you're rushed and drown your exhaustion in foods to give you energy, such as pies and pastries or seek some comfort in the smooth creamy taste of mashed potatoes. Those that love the joy of Thanksgiving and all the upcoming holidays also love the feasting that takes place. It's a conundrum for both types of people and even for those who enjoy the holiday, but don't count the days until it arrives with dread or joy.
Start your day the right way.
You can get a jump start on your feelings by beginning the day right. Have a sensible breakfast planned and carve out time for exercise. The exercise helps you twice. It first burns some of the calories that you'll be eating and keeps you on track. But most of all, it can alter your mood—in a good way.. It boosts the melancholy and eliminates stress. It puts you in a holiday mood that doesn't necessarily need food to make it continue.
Plan a meal that is healthier and lower in calories.
Not everyone has the option of planning all the foods, but if you're the one cooking you do. You can stick with family favorites and adjust the recipes to make them lower in calories and healthier. You can also changes in the menu that eliminate some of the foods entirely. Begin the meal with a low calorie soup as an option. Start early by trying new recipes until you have the perfect combination. Have lots of raw veggies and create your own dip that will make everyone rave, eating more veggies in the process, and still keep them healthy. Remember, you'll never go wrong by loading up the veggie tray. Whatever you don't eat can be the perfect cooked base for other meals. I like to always have raw veggies on hand and if they're not moving fast enough, grab handfuls to steam for an alternative.
Fill up, not out.
Yup, munching and crunching raw foods can help, just as drinking water does. It fills you up and not out in the process. Make melon cups for snacks or sliced fruit with a yogurt dip. Filling yourself up before the meal can help you take smaller portions of higher calorie foods. A nutritious snack can also help you avoid nibbling on the higher calorie foods while waiting for dinner.
Talk to everyone during the meal. It helps you eat slower and give your brain a chance to catch up with the feeling of fullness.
Take small bites and eat slowly. Again, you'll find you fill up before you finish your meal.
Watch portion control. Take smaller portions of all the foods. That way if you're a plate cleaner, you wont' feel guilty about leaving anything on your plate. Take another day to conquer the plate cleaning habit.
Appreciate everything you eat. Truly enjoy it. Savor its smell, the texture and how it looks on your plate. If you've taken smaller portions initially, it will enhance your eating experience, slow your eating and probably eliminate the need for seconds.