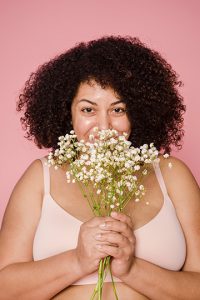 Whether you're worried about losing a cup size or whether you'll gain maximum speed during a race because of large breasts, there are a lot of running vs breast size debates going on today. Many of the articles you find online come from women who haven't begun to run, but are concerned that their feminine curves will disappear and they'll go from a womanly C cup to a training bra. Others want to enter competitive running, but find that large breasts make casual running a bit more difficult. I have input that might help you with both concerns.
Where did your breasts go?
Running helps you shed fat by burning extra calories. It builds muscle tissue that also boosts your metabolism to burn extra calories. If you're overweight, all parts of your body lose fat. Since the breasts are composed of fat and epithelial tissue and fatty tissue, losing weight means losing some of the fatty tissue, ultimately making your breasts smaller.
Don't let that scare you.
Yes, I did just say your breasts will be smaller, but it's all relative. You'll also lose fat underneath the breasts, around your waist and hips, so you'll still have the same proportions. A narrow measure around the rib cage makes breasts look larger. You'll also maintain all the epithelial tissue that helps give you the curvy appearance. While your breasts may be smaller, the rest of your body will shrink too! They may even look larger in comparison to the now thinner, sleeker body.
Let's tackle the problem of runners with large breasts.
Large breasts can make running more difficult. Not only do they bounce when you run, which can be extremely painful, they also change your postures. If you wear a D-cup you could have 15 to 23 pounds pulling you forward and creating an awkward hunched running position. That makes you ripe for injury while also making it more difficult to have an efficient stride. No matter what type of bra you buy, the straps take the pressure. They can press on your nerves and still not take the bounce out of your breasts or help your posture. Doing back exercises for the upper and lower back can help with your posture.
The more bounce you experience when running, the more your breasts lose their elasticity and bounce even more!
Keeping bounce to a minimum for large breasted runners is extremely important for a comfortable run. Finding a good bra that can minimize bounce and have your breasts move in unison with the body is as important as finding the right shoes.
Look for bras that provide support and comfort. Thin straps can gouge and cause pain and sweat wicking materials can reduce chafing.
No matter what your breast size, running is actually good for the breasts when wearing the right clothing. Any aerobic exercise when done four hours or more a week can help prevent breast cancer.
For more information, contact us today at The Running Warrior