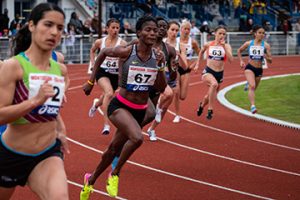 If you want to run like a warrior, you need to have the heart of a champion and be willing to put in extra time it takes to train. What you'll get in return is a feeling of accomplishment and a far healthier body. Running can be done almost anywhere, so you don't need special equipment. What you do need is preparation and dedication to maximize your workout benefits.
Eat healthier for a huge advantage.
You need to fuel your body properly to get the most out of it. Eating healthier isn't dieting. In fact, it's non-dieting. Dieting is restrictive and always ends, either in success or failure. At that point you go back to your old eating habits that kept you from doing your best. Instead, learning how to make wiser food choices is the only way to achieve the best fuel for your body and you can do it forever without suffering or feeling deprived.
Preparing for the race is more than running.
You'll want to work on other types of exercises besides just running, in order to be at your best. Strength training can play an important role in your fitness, so working with calisthenics created especially for runners and lifting can be important. Core training is also good to keep you in shape whether it's during off-season, pre-season or competition time. To insure you don't run out of gas on long marathons, doing some extra cardio training helps.
Make sure you do each exercise correctly and the right combination for the best results.
One of the biggest disappointments to runners is to suffer an injury before running season. Injuries can set you back for weeks or months and even prevent you from competing. Using the services of a personal trainer, you'll learn how to do each exercise correctly, while also learning excellent ways to warm up and cool down. Identifying improper technique in running is also important and a trainer can often spot it easier.
Taking up running is more than just a healthy physical exercise, it's also a wonderful mental release that burns off the hormones created by stress.
You don't have to compete to appreciate the healthy workout you get from running and the way it helps you lose weight for a slimmer silhouette.
A real winner at running only compares his or her milestone with the next run. You can't compare your time with other runners, just with yourself to see improvement.
No matter how demanding family obligations or busy your schedule, making sure you take time to exercise and run is important. If you need to justify that time, think of it as a way to stay healthier for your job, family and friends.