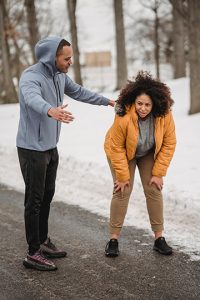 A running coach can be a huge benefit to all levels of runners. While many serious athletes and competitive runners often secure the services of a running coach, I've also had beginners request help. The beginners may not ever plan to enter a race, but they want my expertise for another reason, I can help make running safer. You might think, "Hey, I've been running all my life and haven't injured myself yet." That may be true, but you haven't had a program of consistent running. One study shows that the rate of injury among runners could be as high as 80 percent. An injury can set your program back for months.
You'll get more than just training tips, you'll get motivation and lots of support from me.
While training aid is important and knowledge is king, sometimes you just need an "attaboy." I won't give them unless you've earned them, but I do recognize that winning a race isn't everything. That's right. Sometimes you win even if you don't come in first. Winning in running is about overcoming problems and beating your own personal best. When you train hard and achieve a milestone, I'll be there to let you know it's a great occasion.
Coaches have a lot to offer those preparing for races.
Some of the simplest things can affect your performance. Knowing when you get new shoes, for example, isn't necessarily intuitive, but it can affect your performance. Knowing when to beef up your training and when to rest so your muscles recoup is another area where many beginners fail. Pacing yourself, technique and form are all areas where I can help people prepare for racing.
You have the coaches experience and knowledge to help you get back into training after an injury.
Running coaches know when you're ready to train again if you've been on the sidelines with an injury. Some runners go back to training too quickly, with disastrous results. Others take too much time away from training, fearing the worse. A coach can help you ease back into training with less potential for reinjury.
Getting ready for a race or to improve your performance is more than just running endlessly. I'll help you with your form and mental preparation that's so important for any race.
Knowing the right types of foods to eat for improved performance, especially right before a race is important. I keep abreast of the latest research to insure your nutritional needs are met.
You'll be held accountable for your training when you work with a coach. I also create a training plan that will push you beyond your comfort zone.
You'll learn technique with the help of a coach. As a coach, I can help you learn when and how to pace yourself. I also design workout plans that builds weaker muscle groups.
For more information, contact us today at The Running Warrior