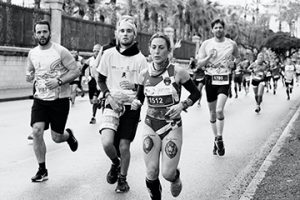 The marathon that's right for you may be held locally or miles away from you, but it's always one that meets with certain factors, which may include how you train and even your location. You may want to enter a smaller marathon for your first one, or love the competitive factor and excitement offered at huge marathons, such as the TCS New York City Marathon that's currently the largest in the world and attracts as many as 2 million spectators.
Weather conditions are important.
If you're not a cold weather runner, entering a race where the temperature is normally below freezing won't be your cup of tea. For those who get warm fast and need to limit their running in hot weather, running a marathon in southern Nevada or Arizona in August isn't wise. It takes more than just knowing average weather. You need to get as much information as possible, including the weather along the course, which could dip down if the terrain turns mountainous or heat up in a treeless desert stretch.
Even if everything is perfect, training time is important.
Maybe you just heard about the perfect race that has everything you have on your bucket list, unfortunately, you won't have nearly the outdoor training time you need due to inclement weather in your location or it's on the heels of another big race you just entered that is sure to leave you tired. Other problems with timing is lack of shorter events locally to help get you ready for the big race or even a deadline that's too close to get into shape for your peak performance.
An exotic location sounds great until you consider all the problems and hassle.
Going to an exotic location for a big race may sound fantastic, but sometimes the planning and organizing may be more than you want to handle. Exotic places mean new types of foods, different time zones and even some jet lag, so you need to have plenty of time to adjust. It may require you to get all the shots and papers necessary for international travel and make arrangements for someone to take care of things back home. If you're an old pro at marathons, have plenty of time and don't mind the hassle, it might be a good choice, but for most people something closer to home would be better.
Don't enter a marathon that's longer than you've ever mastered in practice. That might seem self-evident, but it sometimes happens. People think they can "go the extra mile" but never test themselves before they enter.
See if the terrain is similar to your runs and what you want. If you want challenging terrain, you'll be disappointed with a level smooth run. Mountainous runs will challenge and disappoint anyone that only runs on the relatively flat streets of the city.
Do your homework. Before you enter any marathon, gather as much information on the terrain, climate, size and distance as you can. All information has the potential of being useful.
Talk to someone who has been in the marathon and ask for their opinion and help.
For more information, contact us today at The Running Warrior