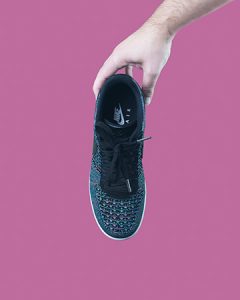 For all runners, finding the right shoes matters. Whether you're a weekend warrior just enjoying a brisk run, a racing champion or running for fitness only, not for speed, you'll benefit from having the shoes that will protect you from injury and make running comfortable. Your shoes dictate the interaction of your feet and ultimately your body with the ground. The slight change from one shoe to another changes that and affects your stride.
Sticking with the same style of shoes for years isn't always the best.
People's feet change, just as their weight, flexibility, balance, muscle strength, running efficiency, speed and stride. There is no lifelong perfect prescription for running shoes…anymore than there is a lifelong prescription for glasses. Your body changes over time. Even if you wear the best possible shoes recommended especially for you by the specialty stores, that doesn't mean you'll get the best performance from an identical pair years later.
Make sure your shoes fit.
When looking for the perfect shoe for your running needs, specialty stores consider six different points for fit, besides assessing whether there are any special needs. The heel, width, instep, length and flex can be done when you're sitting or standing, but the actual feel of the shoe needs more investigation, so many of these stores have a treadmill where you test it. Your shoes should feel comfortable and provide support for your stride, but not change it.
Consider getting several different pairs of shoes.
Many studies show that running in several different styles of shoes can make a difference in the number of injuries you sustain. Each shoe has it's own way it allows your foot to interact with the ground. If you use the same shoe continuously, you'll be working the same muscles in the same way continuously, leaving yourself prone to repetitive stress injuries. Switching shoes not only works out new muscle tissue and connective tissue to build strength, it reduces the potential for injury.
When buying shoes, the time of day you shop makes a difference. Your feet swell slightly as the day wears on and reach peak swelling at around four in the afternoon. Shop then for shoes.
Don't buy shoes just because you like the looks. When it comes to running, the most fashionable shoes are the ones that fit well.
The right shoes won't make you run faster, but will protect your feet, making you feel faster and run further by protecting your stride. Practice and good training makes you run faster.
Replace old shoes after running 300 to 400 miles. Old shoes may have lost their cushioning ability that absorbs the shock of running and are one of the leading causes of injury for runners.
For more information, contact us today at The Running Warrior