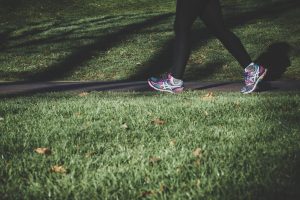 I'm often asked whether running and walking aren't the same, but with more hustle in running. The truth is, I advocate both. Some people aren't fit enough for running, but they can get that way by starting out walking. Some people don't like to run. Even though I'll never understand that because I love it so much, I respect their choices. ANY TYPE OF HEALTHY EXERCISING is important. My specialty is running and I know all the benefits, right ways and wrong ways to do it.
Running burns more calories than walking.
You may have already guessed that an hour of running burns far more calories than an hour of walking. You're pushing your body more, so you're burning approximately 800 calories in that hour, compared to 300 in the same amount of time walking. If you increase the amount of time you spend walking to equal those same 800 calories, the runner still lost more weight according to one study.
You may eat less when you run.
One study in the April 2012 Journal of Obesity showed that the hunger hormones were better under control with runners. This small study allowed the two groups, runners and walkers, to make their won selections at a buffet and measured the amount of food consumed. The runners ate fewer calories than they burned, while the walkers ate about 50 calories more than they burned with walking. It may have to do with the increased levels of peptide YY, a hormone that helps suppress the appetite.
There are dangers in running, but many of those dangers can be avoided with good coaching.
So many times I hear someone who knows someone that was injured running or a runner comes to me with injuries. I normally find that these people had no coaching and often started running without properly warming up or had improper form, the wrong type of shoes or other problems that can lead to injury. That's where I come in. As a running coach, I help prevent some of the injuries associated with running and even work on things such as strength training for overall fitness. All of these factors are important not only for your best running time, but also a safe run.
One of the reasons I run and many other people run is because of love. There's nothing more exhilarating than going at top speed and beating other opponents or my own best personal time.
Motivation is important in all exercise programs and running keeps me motivated. It has a measurable time and distance goal that I can challenge every time I run.
As noted earlier, both running and walking are good exercises and I would never discourage either. However, to be your best you have to insure you include strength and flexibility training too.
What you eat also plays a huge role in your every day health and running performance. I'll show you how to eat healthier for not only a better performance but overall daily health too.
For more information, contact us today at The Running Warrior